Price List of Plus Climbing Koper
Regular prices for entrances without the instructor
Daily entrance: children 3-5 years: 6 € / children 6-12 years: 12 € / children 13 years+ and adults: 14 €
10x entrance: 120 € (the ticket is valid for a period of two consecutive months)
---
We recommend to make a reservation and an online payment for the daily entrance with Studionaut:
REGISTRATION FOR NEW STUDIONAUT USERS
After you fill-in your data, you will get a link on your e-mail. Follow it. Make a reservation for the day you want to climb. For further registration you can also install Studionaut mobile app or click on the button below:
---
Price List for climbing courses and trainings
When you register for one of our classes or trainings, you become also a member of The Sports climbing club Plus (Športno plezalni klub Plus – ŠPK Plus) and pay the membership contribution (valid for the current year, from 1st January till 31st December).
For more information please write to plusclimbing@gmail.com.
Price for climbing course / month:
1x / week
2x / week
Preschool children
45 €
60 €
Primary school children
50 €
65 €
High school children
55 €
70 €
Students
55 €
70 €
Adults
70 €
90 €
Adults with Mina Markovič***
75 €
95 €
Seniors
55 €
70 €
Unemployed
55 €
70 €
Individual hour with the instructor
35 € / 60 minutes
Individual hour with Mina Markovič***
45 € / 60 minutes
All our prices include VAT.
---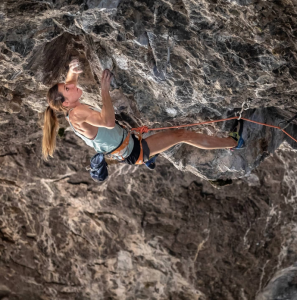 ***For many years, Mina Markovič shaped the world top of sport climbing. During her long career as a professional competitor in sport climbing, she achieved:
🥇 22 World cup gold (20 lead, 2 bouldering)
🥇🥈🥉 48 World cup podium
🏆 3 x overall lead title, 🏆3x overall combine title
🥈🥉 World championsip medals (4)
🥇🥈🥉 European championship medals (6)
🥇 World games lead
In 2013, she received the Bloudk Award for her achievements in sport, the highest state award of the Republic of Slovenia in the sports field. Highlights from her professional competitor career, which she completed in 2021, can be seen on her Instagram profile. At the moment, he devotes herself more to climbing in natural walls.
We are honored to be able to offer climbing trainings with such a top sports climber in our climbing center.
---
For individual hour training please write to plusclimbing@gmail.com.